BATHROOM FLOORING WICHITA
Successful flooring projects benefit from the right material, prices, and planning. Bathroom Flooring Wichita provides its valued clients a complete Bathroom Remodel Wichita KS, which means we can also redesign other parts of your bathroom. We guarantee access to the current flooring trends and new products while still offering timeless floor materials and designs. View various flooring styles and materials installed in our showroom to get a closer look and feel for the texture. Our attendants can help you find the best quality of products within your budget.
Tiles for Bathroom Flooring
Many homeowners prefer tile for bathroom floors. Tile has been around for decades, which is why some manufacturers have improved their quality and finish. Guaranteed, you will find the ideal tile that matches the bathroom design you want to have. Check out several types of bathroom flooring you might want to see during your visit and consultation.
Geometric tile patterns can quickly become the statement piece for your whole bathroom. There are different sizes and colors available. The more popular shape options are triangles, hexagons, rhombuses, and other attractive shapes. Mix and match different shades of the same form for a unique and creative design. Our experts can help design 3D geometric bathroom floor tiles based on the colors you pick.

Terra cotta floor tiles add glow to your plain bathroom wall colors. This type of ceramic tile for bathroom comes from brown and red clay. The tone is excellent for adding a natural shade to your bathroom. Before, homeowners would consider terra cotta as rustic. Nowadays, many designers consider it a beautiful material for contemporary style bathrooms ever since it gained popularity again recently.

Natural stone flooring makes a bold statement. Since there are limits to the manufacturing of natural stone for flooring, not many homeowners can get their hands on the material. For this reason, it makes natural stone exclusive and valuable. Experts advise regular maintenance and sealing to keep the stone clean and beautiful.
Combining patterns, colors, and styles of bathroom floor tiles can still do your bathroom good. If you want to know how to make it work, ask Bathroom Flooring Wichita experts. Bathroom Designs In Wichita KS help to plan your unique bathroom flooring preferences, so you know which styles work together and which ones do not. Rest assured that whatever type you choose, we will help you complete the project on time and within your budget.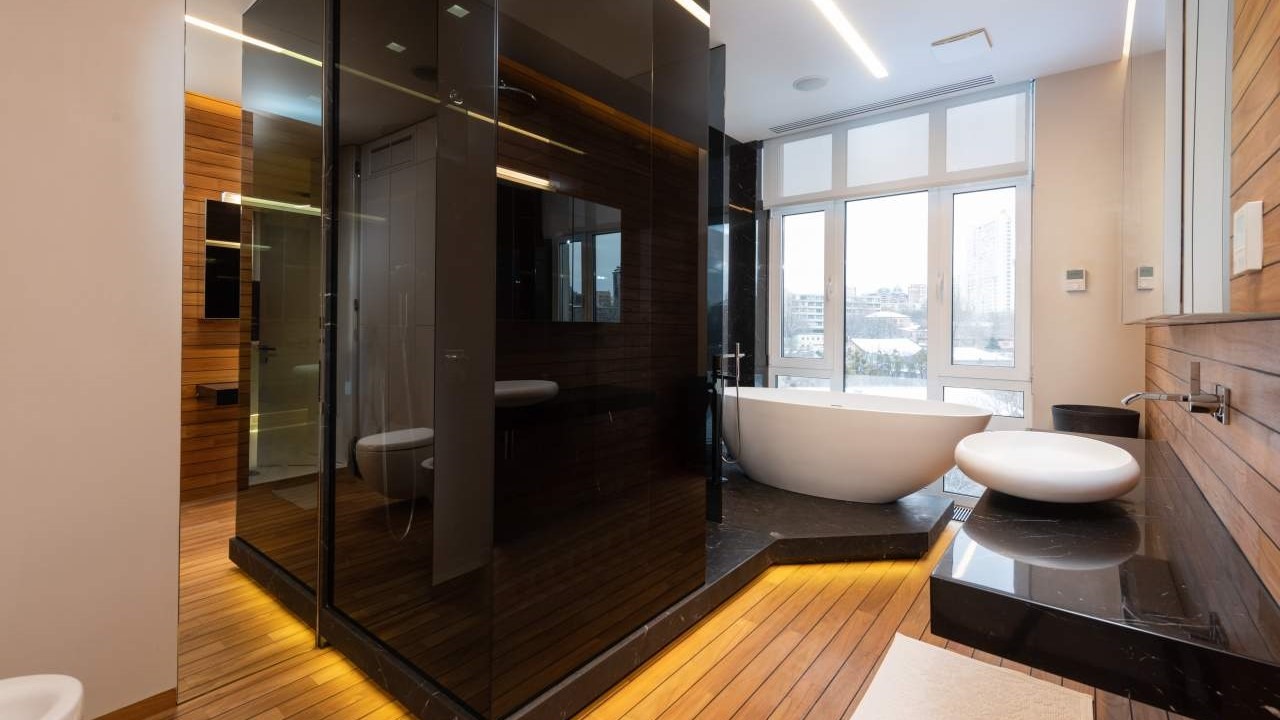 Waterproof Bathroom Flooring
The bathroom environment had abundant moisture, especially in the shower area. Some flooring materials may not be advisable for the bathroom because they are not waterproof and could quickly wear out due to water damage. Our professionals will help you decide on the right material and its suitable waterproof sealing agents.
Professional Bathroom Floor Installation
Our complete bathroom remodeling services in Wichita provides the best experiences for homeowners in the city. We have a large team composed of licensed and certified professionals who will ensure your remodeling project gets the best management from start to finish. Here are some reasons why working with us might be the best decision you will make for this project.
Our flooring materials come from reliable manufacturers that we have been working with for years. We have a firsthand look at upcoming trends in bathroom designs. Our experts make sure we send only the best quality materials to install in homes.

We work within your budget and make sure to assist you in deciding where to allocate costs. Since our professionals have been in the field for years, we will manage all remodeling projects.

We provide low-cost bathroom remodeling packages so that you can get complete services. You also get access to samples, wholesale prices, 3D designs, and many other benefits.
Schedule a consultation with Bathroom Flooring Wichita today. Call our customer service hotline.